2020 Acura MDX Dimensions
Exterior Dimensions
With elegant lines and an attractive exterior, the Acura MDX is at home whether you're heading for a night on the town or the daily commute. Behind the wheel, drivers will feel confident that the MDX has a commanding presence on the road. Yet, it features an impressive drivability that makes it easy to maneuver through tight spaces and narrow streets. Here are some key exterior measurements:
Wheelbase: 111.0 inches
Length: 196.2 inches
Width: 77.7 inches
Height: 67.4 inches
Front Track: 66.3 inches
Rear Track: 66.3 inches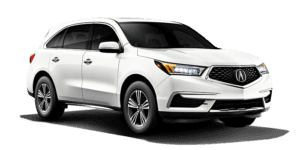 Towing Capacity
For drivers who need to tow, the MDX can tow both small and larger loads. With front-wheel drive, the MDX can tow up to 3,500 lbs., which is ideal for drivers who need to tow lightweight trailers, jet skis, and more. Attempting to tow a load that exceeds your vehicles limits is dangerous to your vehicle and to other drivers on the road, so for heavier trailers, boats, and campers, opt for all-wheel drive which allows the MDX to tow up to 5,000 lbs.
FWD – 3,500 lbs.
AWD – 5,000 lbs.
Ground Clearance
Having a vehicle with a high ground clearance means that you can traverse over uneven or bumpy surfaces without worry about damaging the underside body. The ground clearance measures from the lowest point of the underside of the MDX to the ground. Drivers can go off the beaten path with a measurement of 7.3 inches.
Experience 2020 Acura MDX Dimensions With a Test Drive Today!
Find out more information on the 2020 Acura MDX by contacting us or visiting your nearest Kansas City Acura Dealer. Explore current offers and check out the 2020 Acura MDX in person and sit behind the wheel with a test drive today.